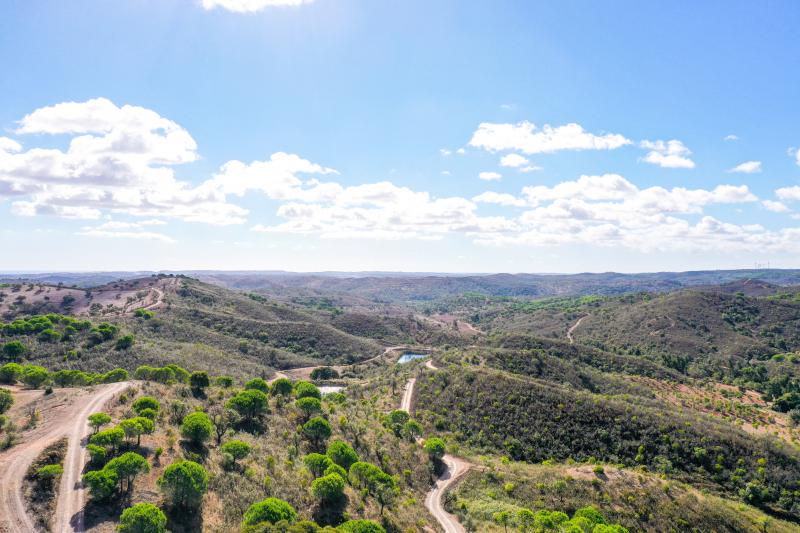 Superb plot of 140 hectares of land with 2 residential buildings and 6 lakes, easily accessible, located near Pincho, 20 minutes driving from Lagos, with a fully approved project for a 1900 m2 rural hotel
Amazing opportunity to build the project of your dreams with the most spectacular country views and superb location near Pincho, only 20 minutes driving from Lagos.
The property has two residential buildings with garage, 5 lakes and 6 draw-wells.
During the winter, there is plenty of water flowing through the river that is crossing the plot. The soil is very fertile, suitable for a vineyard, and there are a lot of cork oak trees and medronho bushes.
The plot is located 10 km from the south coast and 15km from the west coast of Algarve, and is easily accessible for all kinds of vehicles by the asphalted roads.
The proximity to the mountains and the Bravura dam give the land very particular and perfect conditions.The accessibility provided by the proximity to the A22, the proximity to the city of Lagos, as well as the proximity to facilities such as Faro airport, the airfield of Lagos and Portimão, the international autodrom of Algarve, put the land in a privileged location of great strategic value.
The extraordinary weather conditions, as well as the security and tranquility that the region offers, are very attractive factors.
There is already a approved project for a rural hotel, with 12 rooms, 6 one bedroom apartments and 2 two bedroom apartments.
Enquire about this property