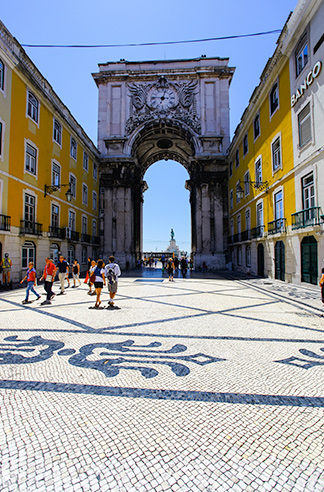 B&P Real Estate Agents
Our company philosophy has always been to offer you property for sale in Portugal, at the right price with support and independent advice. Our unique service provides a one stop shop for our clients. Whether you plan to buy an apartment in Lisbon for living in or to find a solid investment in Lisbon we are committed to find every potential client the property to suit them.

On top of the expected high level of customer service our clients are used to B&P Real Estate Agents also offer a full short term and long term letting of your property. Our newly formed Management and letting team has been designed around the success of Resort Rentals Algarve, the largest independent letting and management agent in the Western Algarve.

When choosing your Lisbon Property we have formed strong links with a network of Portuguese partners, ensuring that the highest standards are maintained and the ideal property can be sourced for your personal requirements. We have developed contacts with some of the best developers in Lisbon. You cannot walk more than 2 blocks without seeing the investment being made in the city.

We are very selective with the properties in our sales portfolios; we will only offer you properties that we would want to buy ourselves. We realise that it is very important that when you visit Lisbon, you are looked after by friendly, professional staff in a 'no pressure' environment. This again is a key principle of the B&P way.
History
Lisbon is the second oldest capital in the European Union, only overpassed by Athens.

Having endured a number of ups and downs over the last 1500 years, Lisbon is now rising from the ashes and is being compared with cities such as Barcelona and Madrid.

During the 15th Century Lisbon became the most important port in Europe bringing Spices from India and the far east. The new world was under the domination of Portugal and Lisbon became one of the richest capitals in the whole continent.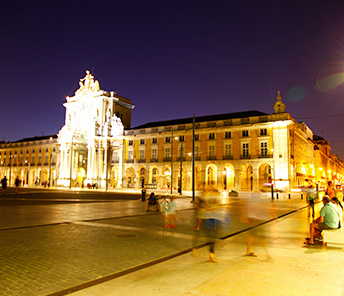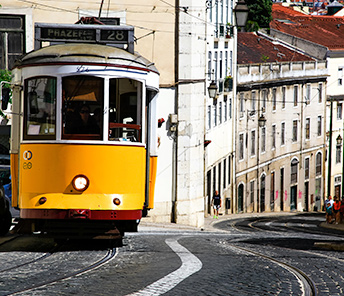 City
Lisbon faces the river Tagus, and is connected to the south by way of 2 huge bridges. Ponte Abril 25th reminds us of San Francisco Golden Gate while Ponte Vasco da Gama is over 10km long and connects to the east of the city and the Expo area of Lisbon. The city itself is composed of seven hills. This enables Lisbon geography to offer stunning view points and breathtaking sunsets. The historical centre with it's labyrinth of streets and tile covered buildings is unique. Here the old and modern mix in perfect harmony.

Unlike most big Europeans cities, Lisbon still conserves some of her old neighbourhood's intact. Areas such as Alfama, Mouraria, Graça, Bica, Principe Real, Chiado, Rato, Lapa, Estrella and Santos offer the opportunity to go back in time and forget you are in a major capital city and just relax while walking through the little narrow streets, where colourful fragrant flowers adorn the typical Lisbon houses.
Lisbon weather
Lisbon offers a mild climate throughout the year. Our summers are nice and hot, very inviting for a beach day. The winters are usually sunny and relatively warm during the day.

Lisbon enjoys one of the most optimal number of hours of daylight in Europe. Days in winter are not as short as in the northern part of the continent, the average hours of daylight in December, January and February is 10.3 hours.

Lisbon, with it's cafe culture and soulful Fado music is one of the best destinations in Europe, no matter what time of the year you decide to visit.